Is It Okay To Encourage Your Wedding Guests to Get Vaccinated Before Your Event?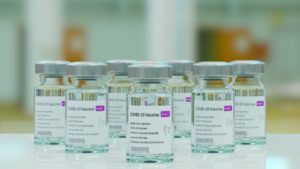 With more people getting vaccinated against COVID-19, couples question whether or not to require the vaccine to attend their wedding.
Remember the days when the biggest concern about your wedding day was the weather? We'd take a few sprinkles over a pandemic any day. However, throughout the COVID pandemic, couples have been faced with confusing questions. Do we need to adjust our plans? How can we ensure our guests remain safe? Should I ask my wedding guests and vendors if they got vaccinated?
As of now, vaccines are readily available to anyone over 16 in the US. Considering many Americans are vaccinated, some people may not get the vaccine for various personal or medical reasons. Still, it's a reasonable conversation to have.
Addressing the vaccine topic with your wedding guests can get a little tricky. So we're helping guide you through planning a wedding during COVID and giving you tips on how to handle every possible scenario.
Creating a Game Plan and Adhering to it
Before we talk about the right & wrong way to speak to your guests about COVID formalities, it's essential to set the tone for your big day. Do this by establishing clear rules – and sticking to them. Sit down with your bride or groom-to-be and talk about your dream wedding. Is it indoors or outdoors? A large and lavish celebration, or just your nearest and dearest? Having those details clear will be the first step to setting your rules regarding COVID-19.
Once you decide on your dream wedding venue, be sure to double-check the venue's rules regarding COVID. Private venues do have the right to refuse entry to non-vaccinated people. In addition, businesses are legally allowed to require proof of vaccination – if they so choose. Although most wedding venues around the state don't have such strict standards, it's always a good idea to check the rules before you fall in love with a venue.
Make the Rules Clear on Your Wedding Website, Save the Dates and Invitations 
It's your wedding day, and ultimately you're the boss. If your guests MUST be vaccinated to attend your wedding, communicate it right away. You may want to consider writing a short letter and posting it on your wedding site or including a little note in the invites explaining your request and the reasoning behind it respectfully and sincerely.
Practicing empathy is so important here. Most likely, you'll have some people on your guest list that are not (and will not be) vaccinated by the time your wedding rolls around. This is where it gets a little complicated. If the person(s) who are not vaccinated are family members or close – you can't simply find replacement friends & family like a broken TV. But, you can still have your concerns about them while letting them know in a kind, respectful way.
Below are a couple of examples of how you can gently articulate that vaccines are a must at your wedding.
We want everyone to have fun and be safe at our wedding, and that is why we have decided to ask every guest and vendor to attend only if they are fully vaccinated.
Since we have high-risk family members and friends attending our wedding, we want to keep them safe, and that is why we encourage you to be fully vaccinated before our wedding day.
If guests can't come because they're not vaccinated, the following message will help them still feel like part of your big day.
We understand the many reasons that might make vaccination impossible, which is why we would still love to celebrate with you virtually (include the link.)
With that being said, you have the right to make the final call. If being vaccinated is an absolute must to attend your wedding, be sure your guests know right off the bat. Another way you can spread the word is by sending an email to everyone on your guest list. Can't think of a great, assertive yet friendly email to write? That's why we're here. Use the email template below.
Subject: Wedding Information
Hey Everyone!
We're glad to report our wedding plans are up and running. After months of social distancing, Zoom calls, and face masks; there is nothing we would love more than to have your presence to celebrate our marriage in a safe environment. To ensure the health & safety of all, we ask every attendant, including vendors, to be fully vaccinated before the big day.
If attending our wedding in person or complying with our requests is not within your possibilities, we understand entirely, and we have a virtual option for you to be part of our big day. But know you will be missed!
We want to take a minute to thank all of you for understanding. If for any reason the above makes your attendance impossible, please know we will miss you, but we understand.
Please RSVP according to the following:
If you are not able to be fully vaccinated/show a negative COVID-19 test result, please RSVP "No."
If you can be fully vaccinated/show negative COVID-19 results, please RSVP "Yes."
If you have doubts, please reach us before RSVP. We can't wait to celebrate our big day with all of you!
With nothing but love,
(name & name)
Consider if You'll be Requiring Vaccination or a Negative COVID-19 Test 
If you're not 100% comfortable about requiring the COVID vaccination to attend your wedding, you could consider attending guests to show a negative COVID-19 test instead. A COVID test might be more accessible for your guests – and in some venues, a negative COVID test is required to enter.
Showing a negative test can help protect guests that may be immune-compromised, high risk, or undergoing cancer treatments. Plus, the test is virtually non-invasive. No, we would rather not have the giant Q-tip shoved up our nose, but hey, it's over in a couple of seconds. Of course, you could also choose to provide a rapid COVID-19 test that can take about 15 minutes, but they often come at a high price tag.
Hosting a Wedding with NO Restrictions in Ohio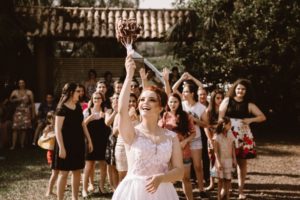 As of spring 2021, Ohio Gov. Mike DeWine and the Ohio Department of Health loosened COVID-19 restrictions regarding mass gatherings. However, please keep in mind that some venues may still require guests to wear masks or social distance.
To help ensure the health and safety of your guests, you may want to consider an outdoor wedding and keep the guest list on the smaller side. As long as you're adhering to state rules and regulations, you do have the freedom to choose whether or not you require your guests to be vaccinated.
On the same note, be aware that around 10% of venues in Ohio do require ALL guests to show proof of vaccination.
How to Navigate Wedding Etiquette Through a Pandemic
Weddings are all about traditions and etiquette. As the bride & groom (or bride & bride or groom & groom), you have to meet and greet each guest, send thank you cards to everyone who sends you a gift, take countless pictures (even with your once-removed second cousin by marriage), and the formalities list goes on.
But what about asking your guests to get vaccinated or show a negative COVID test to attend your wedding? Is it polite? Is this correct? Before 2020 questing your wedding guest's medical statuses would be nothing short of unthinkable, but 2021 has a new set of rules. So again, if we follow traditional etiquette, you should not request your guests to be fully vaccinated to attend your wedding. But again, the rules have changed.
If you do decide that all guests must either be vaccinated or show a negative COVID test to attend your wedding, be sure to go about requesting it with kindness. Celebrating your wedding is (hopefully) a once-in-a-lifetime moment that you will forever treasure. So you want to remember your wedding for all the right reasons.
As times continue to change and we adapt to new scenarios, it's important to remember to continue to do what you believe is best for the health and safety of your loved ones and yourself. For example, if having a wedding without any requirements feels right for you, go for it. But if you prefer your guests to be vaccinated – that's OK too.
Thanks for reading. As a professional wedding DJ, I have seen how the pandemic affected many couples and the wedding industry as a whole. Currently, I am accepting wedding parties where guests may or may not be vaccinated.
DJ Ivan is a DJ in the Cleveland, Ohio, area. His company, Synapse Entertainment, specializes in weddings.
For further reading on this topic, check out the following articles: