What You Should Expect from your Wedding DJ? (video below)
What to expect of your wedding DJ? What Does a Wedding DJ Do? 
 Your DJ will be your:
1. Sound Engineer Your DJ is your Sound Engineer for the day. They need to bring and set up all the speakers, microphones, cables, and other DJ equipment that are going to allow everyone to hear what is being said and feel the beat on the dancefloor later!
2. Next your DJ will be the master of ceremonies for your wedding.  The MC will let your guests know what is going on. They may be the ones to let inform guests when it is time to come into the banquet hall for dinner and introduce the wedding party, as well as and announce any events or toasts.  They need to be confident of the microphone, speak clearly and not talk too much (because your wedding is about you all, not about the DJ!)
3. Facilitator Unless you have a planner, your DJ will be your reception's facilitator to make sure things are moving along and on schedule. This is beyond simply making announcements. They may have the find where best man went to make sure he is ready for his toast and coordinate with the caterers to make sure there is knife is actually on the table before the cake cutting. If you hired a wedding planner, they may do this facilitating, but your DJ will need work well with the with them to keep things running smoothly.
4. One of the most obvious responsibilities of the DJ is the be the music programmer for your wedding. They need to play the music that sets the right mood, incorporating your requests throughout your event and fill in the other songs that make sense. You'd be surprised by how many DJs don't get the volume right: The music should be at a lower volume at cocktail hour and dinner so that people can have a conversation and then louder for dancing.  It is helpful if your DJ can mix music: they can seamlessly transition from one song to the next – it keeps the dancefloor moving!  Your DJ should be able to read the crowd and know when to play requests and when to politely ignore a request that will clear the dancefloor.
5. Schedule maker. Unless you have a planner or someone else doing it, your DJ should be able to make a schedule for your reception and follow it. This way your event can flow and you & your guests aren't waiting awkwardly for things to happen. Ahead of your wedding, your DJ should ask you what events you want at your reception (i.e. Who's giving a toast? Do you want a bouquet toss? Do you want an anniversary dance?) If your DJ can't help make a schedule, you might not have a pro.
Additional services:
They may not be in the top five most important, but many DJ companies provide other services that you should know about.  Lighting is the one of the main ones.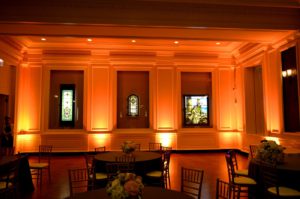 Uplighting is the most popular at weddings.  These are LED lights that shine up the wall and create a nice ambiance in your banquet hall.
Dance Lights are fun lights that will move to the beat of the music and create some extra excitement during dance-y time.
Gobo Lights can project your names, initials or another image on the wall or dancefloor.
Photobooths are another option offered by some DJ companies, which can be a lot of fun!
So those are the most important things you should expect from your wedding DJ.
Let me know in what you think?  Did I miss anything?  Do you have any questions?
—DJ Ivan
This article is by Cleveland area DJ Ivan.  His company, Synapse Entertainment, specializes in weddings.